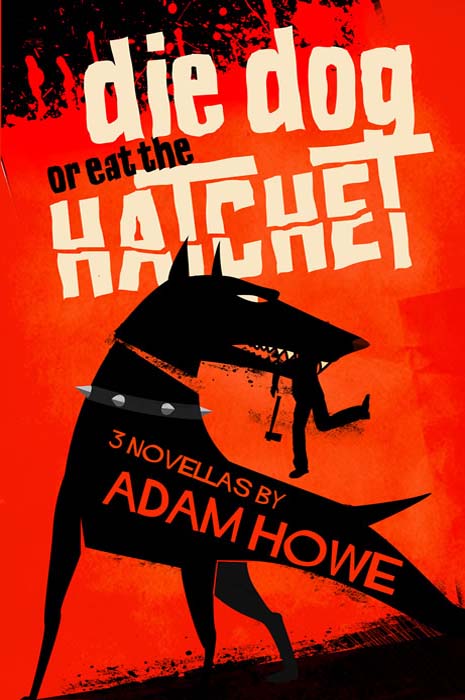 Release Date: November 3, 2015
Length: 245 pages
ISBN-13: 978-1936964253
Format: Paperback and Ebook
From Adam Howe, winner of Stephen King's On Writing contest, come three original novellas of hardboiled crime, graphic horror and pitch-black gallows humor…
Available in paperback and email at these and many other retailers.
From Adam Howe, winner of Stephen King's
On Writing
contest, come three original novellas of hardboiled crime, graphic horror and pitch-black gallows humor.
DAMN DIRTY APES
Washed-up prizefighter Reggie Levine is eking a living as a strip club bouncer when he's offered an unlikely shot at redemption. The Bigelow Skunk Ape – a mythical creature said to haunt the local woods – has kidnapped the high school football mascot, Boogaloo Baboon. Now it's up to Reggie to lead a misfit posse including a plucky stripper, the town drunk, and legend-in-his-own-mind skunk ape hunter Jameson T. Salisbury. Their mission: Slay the beast and rescue their friend. But not everything is as it seems, and as our heroes venture deeper into the heart of darkness, they will discover worse things waiting in the woods than just the Bigelow Skunk Ape. The story the Society for the Preservation of the North American Skunk Ape tried to ban; Damn Dirty Apes mixes Roadhouse with Jaws with Sons of Anarchy, to create a rollicking romp of 80s-style action/adventure, creature horror and pitch-black comedy.
DIE DOG OR EAT THE HATCHET
Escaped mental patient Terrence Hingle, the butcher of five sorority sisters at the Kappa Pi Massacre, kidnaps timid diner waitress Tilly Mulvehill and bolts for the border. Forcing his hostage to drive him out of town, it's just a question of time before Tilly becomes the next victim in Hingle's latest killing spree. But when they stop for gas at a rural filling station operated by deranged twin brothers, Dwayne and Dwight Ritter, the tables are turned on Hingle, and for Tilly the night becomes a hellish cat-and-mouse ordeal of terror and depravity. The meat in a maniac sandwich, Tilly is forced against her nature to make a stand and fight for survival. Because sometimes the only choice you have is to do or die…to Die Dog Or Eat The Hatchet. Reading like a retro slasher flick, this pulpy Southern Gothic kidnap-thriller takes no prisoners as it roars towards a shattering conclusion.
GATOR BAIT
Prohibition-era 1930s… After an affair with the wrong man's wife, seedy piano player Smitty Three Fingers flees the city and finds himself tinkling the ivories at a Louisiana honky-tonk owned by vicious bootlegger Horace Croker and his trophy wife, Grace. Folks come to The Grinnin' Gator for the liquor and burlesque girls, but they keep coming back for Big George, the giant alligator Croker keeps in the pond out back. Croker is rumored to have fed ex-wives and enemies to his pet, so when Smitty and Grace embark on a torrid affair…what could possibly go wrong? Inspired by true events, Gator Bait mixes hardboiled crime (James M. Cain's The Postman Always Rings Twice) with creature horror (Tobe Hooper's Eaten Alive) to create a riveting tale of suspense.
"Adam Howe continues his ruthless reconstruction of the dark (DARK) crime and horror genres in
Die Dog or Eat the Hatchet
. Mr. Howe would have us sympathize with unsympathetic characters, buy into their outrageously asinine schemes and plots, and refrain from upchucking when they receive their inevitable stomach-churning retributions. Whether you call it Splatterpulp or Punk-Noir,
Die Dog
is an out-of-control '46 Mercury coupe heading hell-bent for Dead Man's Curve without brakes; a velvet-swathed lead slapjack to the base of the skull; a hard kick in the balls from a twisted, homicidal clown with giant shoes wrapped in razor-wire. It's an explicit, hard-hitting, twisted funhouse ride into pulpish horror wrapped loosely in a tattered skein of irreverent, jet black humor. In short, it's a freakin' blast." —
Walt Hicks, author of Dirge of the Forgotten
_____
"Adam Howe's skill with hilarious dialogue makes reading Damn Dirty Apes a laugh-out-loud experience, keeping you turning pages until the end and eliciting snickers from memory long after the story's over. Filled with brutality, atmosphere, and surprising depth, it's an absurd tale that explores not just the American south's backwoods in all its sticky, smelly grandeur, but also the all-too human yearning for stardom, even greatness. As ludicrous as events get, characters like Reggie, Eliza, and even Lester come off as real people, and Howe makes you worry about them even as you laugh at the mess they're in. Don't let the Society for the Preservation of the North American Skunk Ape (SPNASA) prevent you from reading it!
"There's no safe place to hide in Die Dog or Eat the Hatchet. Once it gets started, the story sticks to you like flypaper, keeping you right there with shaking hands and widened eyes. Every page ratchets up the tension another notch even as it descends deeper and deeper into terrible darkness. Any description of the plot would spoil it: you need to come to this story fresh, without knowing anything other than that you're in for a one-two punch that will have you reeling and glad you're outside the reach of Adam Howe's imagination. Out of all the books I've read for Ginger Nuts of Horror, this is definitely the most intense." — David Dubrow, author of The Blessed Man and the Witch
_____
"Hilarious, repulsive, caustic and downright rad, these yarns run the gauntlet of a true reading experience. The only common thread amongst these tales is an overwhelming air of menace and the genuine threat that anything can happen, nobody is safe. Least of all you, the reader. Adam Howe is not for prudes or the faint of heart."—Zachary Walters @ The Mouths of Madness Podcast
_____
"These novellas open up wide and take a big bite out of your mind's hide. Full of appeal for fans of both crime fiction and horror, these
are fun stories loaded with great characters, and Adam Howe deals out imagery to slice up your eyeballs for days. Die Dog Or Eat The Hatchet is like James M. Cain on a bender with Spinal Tap. One louder and then some."—Kent Gowran, founding editor Shotgun Honey
_____
"With Die Dog Or Eat the Hatchet, Adam Howe hasn't written one of my favorite books of the year, he's actually written three of my favorites. If novellas are the format of kings (and Kings), then this collection is a royal smorgasbord. Stories that are tight, toned, and genre-confounding. Horror fans and crime fans are going to come to blows over who gets to claim Howe as one of their own, but they're both going to be wrong because Howe's his own thing.
"Love this goddamn book and hate it at the same time. How is a British dude a better observer and hybrid-izer of junk Americana than most American writers?"  – Adam Cesare, author of Tribesmen and Mercy House
_____
"The recipe for Adam Howe's DIE DOG OR EAT THE HATCHET is:
Two parts Joe Lansdale
One part Justified
and a heavy dose of WTF
The result is a swampy cocktail darker than any backwoods hayride, stronger than the meanest Sasquatch, and crazier than anything you'll find chicken-fried at your local state fair."—Eryk Pruitt, author of Hashtag and Dirtbags
_____
"Adam Howe has done it again—I've neglected my family, forgotten to eat, lost track of time in my quest to devour each word & nuance of Die Dog or Eat The Hatchet. He's delighted me at every turn while making the darkest recesses of my mind feel both alive & sullied all at the same time. Whatever you're reading at the moment, stop it immediately and read this RIGHT BLOODY NOW"—Zombie Rob @ The Slaughtered Bird
_____
"A rancid broth of gross distortions, misrepresentations and half-truths, played for shock value and scatological humor … I cannot, in all good conscience, endorse this work." Lambert Pogue, General Secretary, Society for the Preservation of the North American Skunk Ape (on Damn Dirty Apes)
_____
Gator Bait
"Adam Howe writes dirty stories populated with characters working like hell to leave a scum ring around the tub while they circle the drain. Gator Bait starts with mutilation and murder then shoves a rocket up its ass and goes south from there. Sticky, icky, pure pulp fun." —Jedidiah Ayres, author of Peckerwood
_____
"A nasty little cracklin of Louisiana noir with a great classic pulp vibe."—Thomas Pluck, author of Blade of Dishonor
_____
"Adam Howe's Gator Bait is a steamy, disquieting piece of bayou noir that you can't help but eat all in one sitting. It won't settle your stomach, but it will stay with you long after you've digested it.
"The story is familiar enough to 1930's noir fans: a down on his luck drifter finds himself in a rundown honky-tonk, trying to make enough money to skedaddle to greener pastures. Looming over the inevitable love triangle is the specter of Big George, a terrifying avatar of backwoods vengeance. Indeed, the theme of revenge is woven throughout the narrative, from the horrible violence that precipitates the protagonist's journey to the brutal, disturbing ending that you hope against hope won't come to pass.
"There's a sickening inevitability to the plot, but Howe takes us by the bloody, maimed hand and skillfully makes us care about what happens to all of the characters, even the villains. If this is indeed based on a true story like it's touted, I'm staying out of the willywags no matter how good the firewater might be in the honkytonks. Sit yourself down, grab a mason jar of hooch, and get reading." —David Dubrow, author of The Blessed Man and the Witch
_____
"Gator Bait is a fast-paced, cleverly-written truncheon of swampy, jet-black neo noir. Hard-hitting and gut-wrenching, resonating with bone-snapping action and filled with well-drawn, all-too-human characters, Gator Bait bites hard and fast–and leaves a mark." —Walt Hicks, author of Dirge of the Forgotten
_____
"Neo-noir at its very best. The first thing you'll do when you finish Gator Bait, is read it again." —Zombie Rob at The Slaughtered Bird
_____
"From its brilliant opening Adam Howe's short n sharp novella Gator Bait grabs you by the throat and drags you through the down and dirty world of 1930s Louisiana. A sleazy piano player makes one mistake after another in this atmospheric, brutal and darkly comic noir tale. I loved it." —Paul D. Brazill, author of Guns of Brixton
EDITORIAL REVIEWS
THE SLAUGHTERED BIRD (On Gator Bait)
by Zombie Rob
"Adam Howe, first & foremost, has told me another extraordinary story. It's Porky's crossed with Angel Heart (with a dash of Lake Placid) but this is both underselling it and over-simplifying it. He's taken the darkest noir and combined it with an original & compelling yarn to produce something new and exciting and encouraging. My expectations were impossibly high for his new material after Black Cat Mojo, so I'd heaped a great burden upon GATOR BAIT. Instead of meeting these expectations though, GATOR BAIT exceeds every one."
Read the entire review at The Slaughtered Bird website
READER DAD (On Gator Bait)
By Matt Craig
"A blackly-comic noir tale that is infused with a sense of growing horror, Gator Bait is the perfect way to spend a dark evening reading. Chilling and unsettling, it is clear that Adam Howe knows exactly what buttons to press to manipulate his audience. I've already mentioned Cain's Postman: Gator Bait is perfect for fans of that classic and shows that Howe has the chops to compete with some of the biggest names in the industry. Don't be put off by his small-press origins: this is a talent that can only stay hidden for so long and an author that we're likely to be talking about much more in the very near future. Get on at the ground floor; I can guarantee you won't regret it."