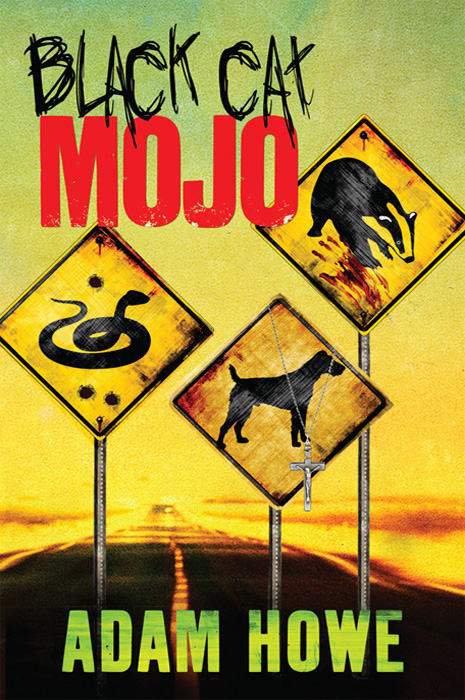 Release Date: March 16, 2015
Format: Paperback and Ebook
Print ISBN: 978-1-936964-32-1
Amazon | Kobo | Barnes and Noble
Also available at Apple, Google Play, Scribd, Diesel, Flipkart, Oyster, and many other online retailers.
Cover and interior design by Inkubus
ABOUT BLACK CAT MOJO
In these three novellas of blackly comic crime and creature horror, you'll go slumming with well-endowed dwarf porn stars, killer badgers, redneck mama's boys, morbidly obese nymphomaniacs, dumbass dog-nappers, trailer trash Jesus freaks, diarrheic Jack Russell Terriers, not-so-wiseguys, mob-movie memorabilia collectors, junkie blackmailers, and giant man-eating Burmese pythons.
OF BADGERS & PORN DWARFS
To pay back a gambling debt and avoid being castrated, washed-up dwarf porn star Rummy Rumsfeld (of Snow White spoof Hi-Ho, Hi-Ho, It's Up Your Ass We Go) must overcome a geriatric pederast, redneck pornographers, a morbidly obese nymphomaniac with serious personal hygiene issues, the ghost of his religious zealot mother, a dwarf-eating badger, and George Lucas.
JESUS IN A DOG'S ASS
Dumbass desperadoes Hootie and Poke incur the wrath of a trailer trash church group, not to mention God, when they kidnap a Jack Russell Terrier with the figure of Jesus Christ in its butt.
FRANK, THE SNAKE, & THE SNAKE
After testifying against notorious mob boss "Snake" Cobretti, embittered ex-wiseguy Frankie "The Tin Man" Piscopo emerges from Witness Protection to embark on a disastrous drug deal that leaves him fighting for his life against a giant Burmese python with a taste for Italian-American.
BONUS SHORT STORY
THE MAD BUTCHER OF PLAINFIELD'S CHARIOT OF DEATH
Washed up carny buys Ed Gein's car hoping to reverse his bad luck. . .
"The bad luck kept coming. The tent would collapse in the middle of his spiel. The trunk-lid would jam, or the hidden speakers refused to play. No one could stomach the car's slaughterhouse stink; kids cried, pregnant women's waters broke, fat guys puked up their beer and corndogs. One time the car's handbrake unlocked, and the Ford rolled back over some poor schmuck's foot; funny thing, the car hadn't even been parked on a grade."
But the real horror was just getting revved up . . .
___________
"Black Cat Mojo gets under your skin and stays there, which is what good books do.  The protagonists are awful, the situations disturbing, and the settings distasteful.  So pick up a copy and dig right in.  You have nothing to lose but your cookies." — David Dubrow for Ginger Nuts of Horror. Read the full review here.
"It's almost as if someone smashed Dashiell Hammett's seamless noir patter, Elmore Leonard's pitch-perfect ear for hapless characters, Quentin Tarantino's sardonic sense of irony and Clive Barker's unflinching portrayal of sexual pain/pleasure into a blender, mixing in a heaping helping of Stephen King's pop culture mise–en–scène framing. Howe bobs and weaves, pulling it all together in a denouement that is as satisfying as it is completely unexpected." –Walt Hicks for Hellnotes. Read the full review at Hellnotes.
"Utterly compelling, uniquely twisted, and funny as hell, BLACK CAT MOJO is simply magnificent!" –Adam Millard, author of Vinyl Destination and Hamsterdamned!
"Black Cat Mojo makes you feel like you've stumbled across a treasure trove filled with the stories Tarantino was too afraid to tell. Bizarro pulp of high quality, Adam Howe writes like Chandler on mescaline—a mind altering read." —S.R. Mastrantone, Shock Totem, Lamplight, Vignettes from the End of the World
"Adam Howe's stories are peopled with characters you might find in a Carl Hiaasen novel: wacky, outrageous, severely down-on-their-luck losers, who go to extreme means to try and improve their lot. You will either be laughing your head off or feeling slightly nauseous." —Jerry Raine, author of Frankie Bosser Comes Home and Slaphead Chameleon.
"Black Cat Mojo is a hilariously ragged hat trick of novellas with a menagerie of wild critters; no-legged, two-legged, and four-legged alike. Okay, three-legged if you count the porn-star dwarf. Yeah, in this book, you get a diminutive hero (New York Giants fan, of course), running from a career in X-rated films to pay back his sports-gambling debts, battling badgers, country rubes, and famous directors, on his own quest to see a wizard, kinda. For round two, you get some blasphemous pareidolia in a puppy's rump and even more crackers. And, for the collection's closer, you get some mafioso action and a python brawl.
Like tuning in to Irvine Welsh's Animal Planet, Adam Howe has conjured up something pulpy and hysterical here, but with an eye for satire and some satisfying potshots at rednecks, religion, as well as technology, not unlike Black Mirror actually (the first episode with the pig anyway). Gloriously offensive, fast-paced and funny, only the animals come through with their dignity almost intact, although Howe does betray some affection for his cast of dead-enders in each selection. So if you're tired of all that respectable, snooze-worthy shit with silhouettes on the cover, try something like this, a book best consumed on the subway in a paper bag, or at the zoo." —David James Keaton, author of The Last Projector and Fish Bites Cop!
"Raw, punky, and genuinely surprising." –Stephen King, on Jumper (featured in On Writing: A Memoir of the Craft)
"What would happen if you took the witty dialogue of Miller's Crossing, the humor of early Peter Jackson, the pacing of The Texas Chainsaw Massacre and flung it all together into a literary miracle that the world needs to read like Right Now? You would have Adam Howe's unforgettable and un-putdownable debut Black Cat Mojo, a collection of novellas in which extremely well-endowed dwarf porn stars, petty gangsters, con artists, badger baiters, and carnies find themselves in one perversely hilarious situation gone bad right after another. You'll cringe and cover your eyes as Howe does his literary gymnastics without much use of a safety net (Does he go there? Oh yes, he goes there.) But rest assured that with Howe at the wheel of this transgressive vehicle your fate is in good hands because Howe is a literary craftsman first and foremost, and the wordsmithery of this little book is the best part about it." —Elias Siqueiros, Fantastic Horror, Tattered Souls Vol.2, A Hacked Up Holiday Massacre, author of The Heart Of An Animal