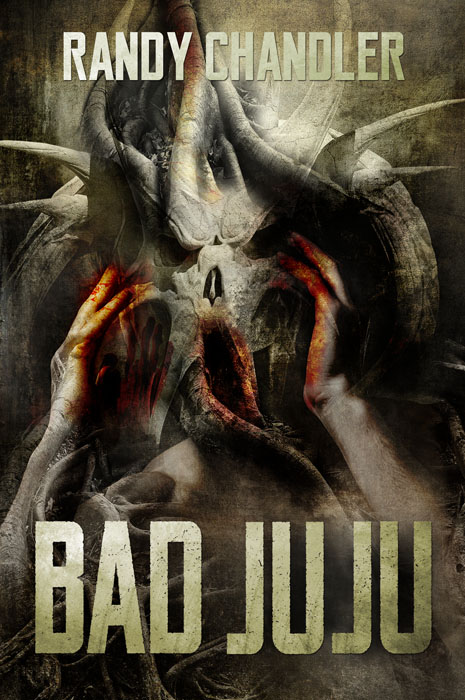 NEW RELEASE FROM COMET PRESS
Bad Juju by Randy Chandler Returns From The Dead
March 15, 2018 — Comet Press is very pleased to announce that Bad Juju by Randy Chandler is back in print, in newly revised print and ebook editions. This classic horror novel was first published in paperback in 2003 by Walt "Hellbound" Hicks, and eventually went out of print. Several years later it had a brief run in ebook form by Acid Grave Press (RIP). During those times BAD JUJU had garnered high praise from reviewers and readers and became highly sought after. And now it is back from the dead, once and for all, and badder than ever.
"Reading Bad Juju is like being bitten by scorpions again and again and again, then asking for more because it felt so damned good." –T. M. Wright, author of Bone Soup
"This is a brilliant book, and ranks right up there with James A Moore's Serenity Falls as my favourite town under siege by evil novels of all time." –Ginger Nuts of Horror
"This is a book with an epic scope, almost a southern gothic kin to King's The Stand, in tone, if not subject matter . . . I highly recommend you give it a look. You won't be sorry." The Crabby Reviewer
"Outstanding! Randy Chandler is horror's best kept secret! Buy it immediately, and discover the genre as it should be." –Kelly Tomblin, Horror-Web
"I climbed into that sucker and couldn't get out. It was a real Venus Flytrap of a novel, absolutely compelling. I'd recommend Bad Juju without a single reservation [to] folks who dig old-time horror." –Steve Vernon, author of Devil Tree
ABOUT BAD JUJU
Dark forces are afoot in Vinewood, Georgia, a deceptively sleepy town where the dead don't stay dead and a sinkhole is as sinister as it is deadly. Violent events both natural and supernatural build to a chaotic crescendo of horrors that will threaten the entire town and everyone in it.
An odd handful of townsfolk put their lives on the line to save the town, but the darkness may swallow them up before they have a chance.
ABOUT THE AUTHOR
RANDY CHANDLER is the author of the novels Dime Detective, Daemon of the Dark Wood, HELLz BELLz, and the fantasy novel Angel Steel. He also co-authored Duet For the Devil with t. Winter-Damon (God rest his soul). Randy's collection of short stories is Devils, Death & Dark Wonders. He is the Associate Editor of Comet Press and co-editor of Year's Best Hardcore Horror.
Randy has been an indie magazine editor/publisher, a freelance book reviewer, a mental health worker, a gas-pump jockey, an ambulance attendant, a soldier in Vietnam, and a funeral home flunky. He often haunts fields of carnage where angels and devils do battle.
Bad Juju is available in print and paperback. (Kindle is free with purchase of paperback from Amazon)