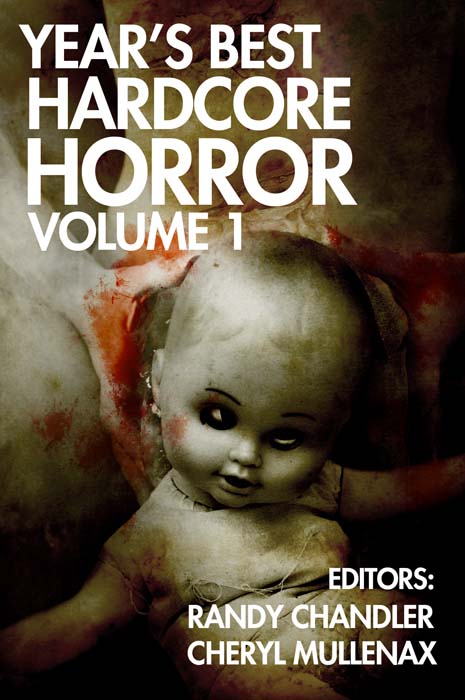 Editors Randy Chandler and Cheryl Mullenax put the call out to horror writers and editors of extreme stories, the hardcore stuff that breaks boundaries and trashes taboos, the transgressive tales you can't "unread" (as Chuck Palahniuk says). We staked out our territory and nailed this to the wall to guide us:
YEAR'S BEST HARDEST HORROR
Not your mama's best-of horror annual.
This stuff comes from the edge of the abyss,
stories you read at your own risk
because you feel the abyss looking right back into you
through the tainted lens of each twisted tale.
Some of the stories you'll find here are loaded with very graphic descriptions of violence, sex and depravities, while others may contain only one shocking moment of brutality. In others, the hardcore aspect may be less graphic and subtler than you might expect. Some of these quieter tales offer the reader some time to recover from the more disturbing ones preceding.
Most of the stories collected here are from small and specialty press anthologies, with a few from periodicals, like the prestigious Splatterpunk Zine in the UK and Thuglit here in the US. Bizarro is also represented with a couple of tales from the unlikely anthology Blood For You: A Literary Tribute To GG Allin from Weirdpunk Books. (If you're not familiar with the late GG Allin, you can find snippets from some of his outrageous and obscene punk shows online, which will increase your appreciation of those two tales.)
So for now, forget about that neighbor you suspect is a serial killer, don't worry about the drunk driver that could take you out on your next trip to the store, push those troubling news stories to the back of your mind and immerse yourself in the imaginary horrors at hand.
But don't be surprised if you sense something dark staring back at you from between the lines. That is to be expected when you enter these forbidding realms. With any luck, you may find something useful to help you survive the approaching Apocalypse.
"Worth The Having" by Michael Paul Gonzalez, from
Chilling Horror Short Stories
(Gothic Fantasy), Flame Tree Publishing (Sept 2015)
"Awakening" by Jeff Strand, from Splatterpunk Zine 7 (Oct 2015)
"Readings Off The Charts" by Adam Cesare, from Splatterpunk Zine (Oct 2015)
"Reborn" by The Behrg, from Not Your Average Monster: A Bestiary of Horrors, Bloodshot Books (Oct 2015)
"What's Worst" by David James Keaton, from Stealing Propeller Hats From the Dead, Perpetual Motion Machine Publishing (Aug 2015)
"Dead End" by Kristopher Triana, from Chilling Horror Short Stories (Gothic Fantasy), Flame Tree Publishing (Sept 2015)
"What You Wish For" by Lilith Morgan, from Murderlust, Comet Press (April 2015)
"King Shits" by Charles Austin Muir, from 18 Wheels of Horror: A Trailer Full of Trucking Terrors, Big Time Books (Sept 2015)
"Cleanup On Aisle 3" by Adam Howe, from Thuglit 19 (Aug 2015)
"Bath Salt Fetus" by Jorge Palacios, from Blood For You: A Literary Tribute To GG Allin, Weirdpunk Books (Oct 2015)
"Bored With Brutality" by MP Johnson, from Blood For You: A Literary Tribute To GG Allin, Weirdpunk Books (Oct 2015)
"Exposed" by Monica J. O'Rourke, from Cut Corners Volume 2, Sinister Grin Press (Oct 2015)
"Eleanor" by Jason Parent, from Dead Roses: Five Dark Tales of Twisted Love, Corpus Press (Mar 2015)
"The Scavengers" by Tony Knighton, from Happy Hour And Other Philadelphia Cruelties, Crime Wave Press (Jun 2015)
"The Most Important Miracle" by Scott Emerson, from Diner Stories: Off The Menu, Mountain State Press, Inc. (January 2015)
"Hungry For Control" by Clare de Lune, from Zombiegasm.com (Sept 2015)
"Clarissa" by Robert Essig & Jack Bantry, from Creepy Campfire Stories (For Grownups), EMP Publishing (Sept 2015)
"Where The Sun Don't Shine" by Pete Kahle, from Not Your Average Monster: A Bestiary of Horrors, Bloodshot Books (Oct 2015)
"Blackbird Lullaby" by George Cotronis, from Thirteen Stories of Transformation, Underland Press (Mar 2015)
JACK BANTRY is the editor of
Splatterpunk Zine
. His debut novel,
The Lucky Ones Died First
, will be published this summer by Deadite Press. He works as a postman and resides in a small town at the edge of the North York Moors.
THE BEHRG is the author of dark literary works ranging from screenplays to 'to-do' lists. His debut novel, Housebroken, was a First-Round Kindle Scout Selection, and semi-finalist in the 2015 Kindle Book Awards. He has had several short stories published in both print and digital anthologies and is the author of The Creation Series, with books two and three scheduled for a 2016 release. His 'to-do' list should be completed by 2017 … (though his wife is hoping for a little sooner). Discover why he writes as "The Behrg" at his website: TheBehrg.com
ADAM CESARE is a New Yorker who lives in Philadelphia. His books include Mercy House, Video Night, The Summer Job, and Tribesmen. His work has been praised by Fangoria, Rue Morgue, Publishers Weekly, Bloody Disgusting, and more. His titles have appeared on "Year's Best" lists from outlets like Complex and FearNet. He writes a monthly column for Cemetery Dance Online.
GEORGE CONTRONIS lives in the wilderness of Northern Sweden. He makes a living designing book covers. He sometimes writes. His stories have appeared in XIII, Big Pulp and Vignettes from the End of the World.
CLARE de LUNE, also known as Clare Castleberry, is a librarian who writes weird stuff: erotica, horror, sci-fi, transgressive and bizarro fiction. When she's not traveling to strange lands, she lives with her beloved boyfriend and cat in New Orleans. Clare has been published in The Big Book of Bizarro Anthology, Necronomicum Magazine and with Zombiegasm Press and is a member of the Horror Writers Association.
SCOTT EMERSON: Perhaps best known for his blog 365 Days of the Dead (in which he watched and reviewed a zombie movie every day for a year), Scott Emerson has recently appeared in the anthologies Destroy All Robots, Diner Stories: Off the Menu, Westward Hoes, and The Big Book of Bizarro. Currently he serves as facilitator for Morgantown Poets.
ROBERT ESSIG began writing as a result of his fascination with everything horror—books, magazines, movies, etc. He is the author of the novels People of the Ethereal Realm and Through the In Between, Hell Awaits. He has published over 40 short stories and two novellas. Robert lives in Southern California with his wife and son. Find out what he's been up to at robertessig.blogspot.com
MICHAEL PAUL GONZALEZ is the author of the novels Angel Falls and Miss Massacre's Guide To Murder And Vengeance. A member of the Horror Writers Association, his short stories have appeared in print and online, including Gothic Fantasy: Chilling Horror Stories, 18 Wheels of Horror, the Booked Podcast Anthology, HeavyMetal.com, and the Appalachian Undead Anthology. He resides in Los Angeles, a place full of wonders and monsters far stranger than any that live in the imagination. You can visit him online at MichaelPaulGonzalez.com
ADAM HOWE writes the twisted fiction your mother warned you about. A British writer of fiction and screenplays, he lives in Greater London with his partner and their hellhound, Gino. Writing as Garrett Addams, his short story "Jumper" was chosen by Stephen King as the winner of the On Writing contest, and published in the paperback/Kindle editions of SK's book; he was also granted an audience with The King, where they mostly discussed slow vs. fast zombies. His fiction has appeared in Nightmare Magazine, Thuglit, The Horror Library, Mythic Delirium, Plan B Magazine, and One Buck Horror. He is the author of two collections, Black Cat Mojo and Die Dog or Eat the Hatchet, plus the eBook single, Gator Bait. Future works include Tijuana Donkey Showdown, One Tough Bastard, and a crime/horror collaboration with Adam Tribesmen Cesare.
MP JOHNSON is the Wonderland Book Award-winning author of Dungeons & Drag Queens. His most recent books include Cattle Cult! Kill! Kill! and Sick Pack. He is the creator of Freak Tension zine, a B-movie extra and an amateur drag queen AKA Maddy Manslaughter. Learn more at www.freaktension.com.
PETE KAHLE is the author of the award-winning scifi/horror epic The Specimen. In April 2015, he founded Bloodshot Books, a small press dedicated to cross-genre fiction that mixes the best of horror, science fiction, mystery and thrillers. In October of that year, the anthology Not Your Average Monster was unleashed to universally excellent reviews. Volume 2 was released five months later to equally positive accolades.
In addition to original fiction, Bloodshot Books will be launching Second Sight, an imprint dedicated to reprinting a number of classic horror novels from past decades that deserve wider exposure.
Pete's current project is Blood Mother, a stand-alone vampiric novel –without vampires–due out this summer, followed by the second and third books in the Specimen saga.
DAVID JAMES KEATON'S work has appeared in over 50 publications. His first collection, Fish Bites Cop! Stories to Bash Authorities, was named the 2013 Short Story Collection of the Year by This Is Horror, and his second collection of short fiction, Stealing Propeller Hats from the Dead (PMMP), recently received a Starred Review from Publishers Weekly, who said, "Decay, both existential and physical, has never looked so good." He has also been nominated for the Pushcunt Prize. He lives in California.
TONY KNIGHTON published the novella and story collection Happy Hour and Other Philadelphia Cruelties with Crime Wave Press. His story "The Scavengers" will be included in the upcoming anthology Shocklines: Fresh Voices in Terror, published by Cemetery Dance, and his story "Sunrise" is included in the anthology Equilibrium Overturned, published by Grey Matter Press. He has also published short fiction in Crime Factory, Static Movement Online, and Dark Reveries. He is a lieutenant in the Philadelphia Fire Department.
LILITH MORGAN Lilith Morgan is a horror writer (and definitely not a serial killer) who makes her home in Brooklyn, New York, with a summer residency in your nightmares. "Drama aside, my goal is to scare people. To get under their skin, to make them uncomfortable, but above all: to tell good stories."
CHARLES AUSTIN MUIR is a horror author, freelance writer and chiropractic assistant who lives in Portland, Oregon. He was an obituary writer and humor writer for The Oregonian. His fiction has appeared in many small press publications, including Cthulhu Sex Magazine, Morpheus Tales and the Bram Stoker Award-nominated anthologies Hell Comes to Hollywood and Dark Visions: Vol. One. His latest short story, "Party Monster," appears in Peel Back the Skin, an anthology from Grey Matter Press. He is known to lurk and blog at http://charlesaustinmuir.weebly.com.
MONICA J. O'ROURKE has published more than one hundred short stories in magazines such as Postscripts, Nasty Piece of Work, Fangoria, Flesh & Blood, Nemonymous, and Brutarian and anthologies such as Horror for Good, The Mammoth Book of the Kama Sutra, and Eulogies II. She is the author of Poisoning Eros I and II, written with Wrath James White, Suffer the Flesh, and the collection In the End, Only Darkness. Her latest novel, What Happens in the Darkness, is available from Sinister Grin Press. She works as a freelance editor, writer, and book coach. Find her on www.facebook.com/MonicaJORourke.
JORGE PALACIOS is the author of Procreation of the Wicked and numerous short stories. He is a writer, self-publisher, and zinester who writes anything, from horror and erotica to essays and reviews. He's interested in extremes, and more importantly, creating them.
JASON PARENT: In his head, Jason lives in many places, but in the real world, he calls New England his home. The region offers an abundance of settings for his writing and many wonderful places in which to write them. He currently resides in Southeastern Massachusetts with his cuddly corgi named Calypso. He is the author of the novels Seeing Evil, What Hides Within and many published short stories.
JEFF STRAND is the author of a bunch of demented books, including Pressure, Dweller, A Bad Day For Voodoo, Wolf Hunt, Single White Psychopath Seeks Same, Benjamin's Parasite, Fangboy, The Sinister Mr. Corpse, and lots of others. Three-time Bram Stoker Award finalist. Three-time Bram Stoker Award loser. Four-time Bram Stoker Award Master of Ceremonies.
KRISTOPHER TRIANA is the author of the novels The Ruin Season and Body Art, as well as the short story collection Growing Dark, which Rue Morgue Magazine called "a must read". His short fiction has appeared in countless anthologies and magazines, and some of it has been translated into Russian. He works as a professional dog trainer and lives in North Carolina with his wife. Visit his website at kristophertriana.com
"Not for the faint of heart or weak of stomach, the 19 stories in this new best-of annual anthology feature episodes of graphic gore and violence—including torture, dismemberment, self-mutilation, and home abortion—that are designed to push buttons as well as boundaries…strictly for hardcore horror fans."—Publishers Weekly