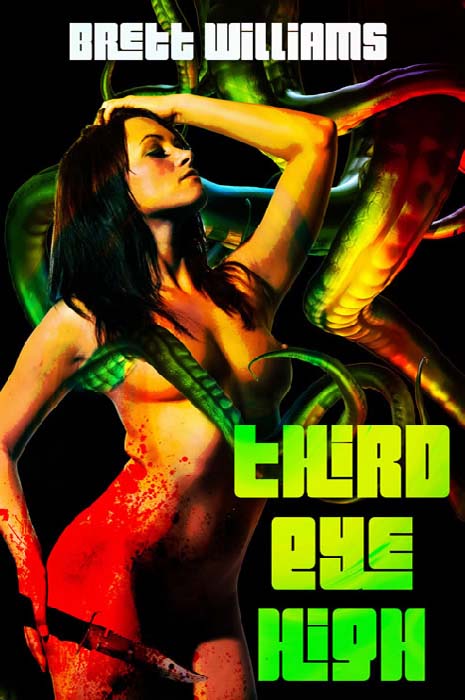 Release Date: April 7, 2014
Length: Novella
Format: Ebook
Also available through these and many other retailers:
Amazon | Amazon UK | Barnes & Noble | Kobo | Scribd | Google Play
Cover and book design by Inkubus
Summer, along with the other flower children in the Stoker commune, want to spread peace and love across Mother Earth. Now, with the discovery of special magic mushrooms and the help of an eons-distant god, they have the ability to bring their goal to fruition. First they must pay homage to the god with chaos, blood, and murder, while protecting their karma by wearing the skin of the dead.
"What happens when you mash-up a Manson-style hippie commune, Lovecraftian otherworldly creatures of chaos, magic mushrooms, strippers and lots and lots of sex and blood? You get the crazy Helter Skelter ride of Third Eye High!" —John Everson, Bram Stoker Award-winning author of The 13th and NightWhere
"A quick, trip-fest of a read that is well-written. A little bit off from my normal reads, but still a interesting treat. I'll be sure to try something else by Brett Williams." Horror After Dark
His head raised up from between her thighs, although the flicking sensation at her sex did not cease. A lustful grin covered his face, and when he maneuvered to ease his bobbing erection inside her, Summer saw from between his legs something long, wet, and glistening dark gray and black slithering like a snake. It had little suckers attached to it like the mushrooms they had eaten. Summer started to scream but Stoker stifled the cry with a hand across her mouth.