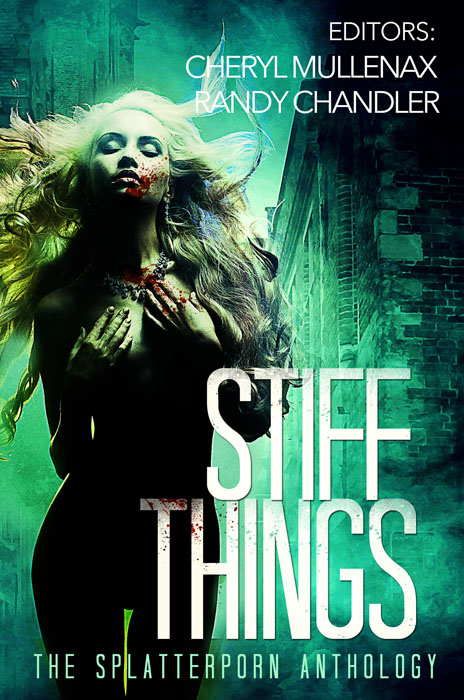 Release Date: August 22, 2016
Format: Print/Ebook/Audio
When Comet Press put out the call for submissions for STIFF THINGS we said we were "ready to ratchet up the eroticism and visceral intensity with hardcore stories that penetrate new depths of psychosexual horror…"
Cover by Inkubus Design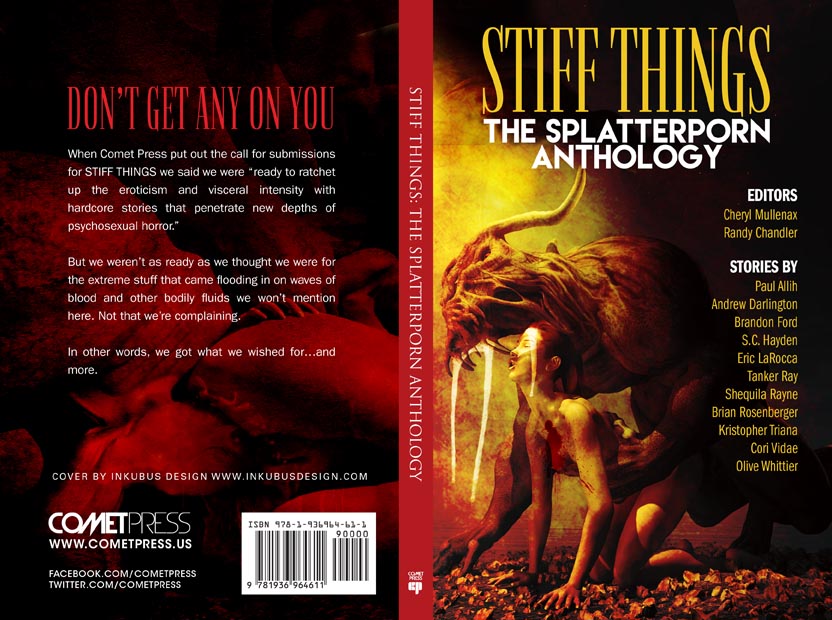 When Comet Press put out the call for submissions for STIFF THINGS we said we were "ready to ratchet up the eroticism and visceral intensity with hardcore stories that penetrate new depths of psychosexual horror."
But we weren't as ready as we thought we were for the extreme stuff that came flooding in on waves of blood and other bodily fluids we won't mention here. Not that we're complaining.
In other words, we got what we wished for…and more. So much more that calling it "an anthology of erotic horror" was no longer strong enough.
The stories themselves dictated a new title. And so here is the TOC for this upcoming release with a more apt title:
Stiff Things: The Splatterporn Anthology
(Not the final order)
"The Extra Mile" by Paul Allih
"The Penis of the Marquis De Sade" by Andrew Darlington
"Modern Celebrity" by Brandon Ford
"Hunter's Moon" by S.C. Hayden
"If My Face Were Transparent, You'd See the Devil" by Eric LaRocca
"Godfucked" by Tanker Ray
"Charlotte the Harlot" by Shequila Rayne
"Suckers" by Cori Vidae and Brian Rosenberger
"The Solution" by Kristopher Triana
"One Ear, Always To the Land of the Dead" by Olive Whittier
PAUL ALLIH resides in a small town in Florida where there's nothing to do but fish or develop a drug habit. When he's not writing, Paul keeps himself occupied with dark fiction, true crime, and cheap bourbon.
ANDREW DARLINGTON has had masses of material published in all manner of strange and obscure places, magazines, websites, anthologies and books. He's also worked as a Stand-Up Poet on the "Alternative Cabaret Circuit" and he's interviewed very many people from the worlds of Literature, SF-Fantasy, Art and Rock Music for a variety of publications (a selection of his favourite interviews collected into the Headpress book I Was Elvis Presley's Bastard Love-Child). His latest music book is Don't Call Me Nigger, Whitey: Sly Stone & Black Power, while his new fiction collection A Saucerful Of Secrets is now available from Parallel Universe Publisher.  Website: www.andrewdarlington.blogspot.com
BRANDON FORD's published works include Open Wounds, The Final Girl, Pay Phone, The Facility, Decayed Etchings, and Coffee at Midnight. He has also contributed to more than a dozen genre anthologies. He currently resides in Philadelphia.
S.C. HAYDEN's short fiction has been published in a number of magazines and anthologies, including Darkfuse Magazine, Dirge Magazine's Blood Sushi, and Underground Voices. His story "The Face" was a 2009 storySouth Million Writers Award nominee. His novel, Kill Your Idols, and his short story collection, Rusty Nails Broken Glass, are published by Black Bed Sheet Books.
ERIC LAROCCA is a playwright and author of horror fiction. A recipient of the Barbara Winder Award for Creative Writing, his fiction has appeared in various literary journals and anthologies such as Of Devils & Deviants: An Anthology of Erotic Horror. The author of several dramatic works, his plays have been work-shopped and produced by Hartford Stage Company (Hartford, CT), La Petite Morgue (NYC), Love Creek Productions (NYC), and Gadfly Theatre Productions (Minneapolis, MN). After finishing his Undergraduate degree at Western Connecticut State University, Eric is pursuing an MFA in Writing for Film and Television at Emerson College.
TANKER RAY is a cocktail connoisseur who does most of his writing in barrooms with a bottle Tanqueray London Dry at his elbow and a Dirty Martini in his hand. When he was twelve years old he was abducted by a psychotic clown who told stories nobody could follow. He is working on his first novel, the story of a woman who sets out to screw a man in every state in America, tentatively titled 50 Fucks and allegedly based on a true story.
SHEQUILA RAYNE resides in New Orleans where she is at work on her first book, a collection of stories based on the oral history and legends of her ancestors. "Charlotte the Harlot" is a fictionalized account of one such story.
BRIAN ROSENBERGER lives in a cellar in Marietta, GA and writes by the light of captured fireflies. He is the author of As the Worm Turns, a collection of short stories, and three poetry collections—Poems that go SPLAT, And For My Next Trick and Scream For Me. His writing has appeared in numerous print and online magazines and anthologies.
KRISTOPHER TRIANA is the author of the novels The Ruin Season and Body Art, as well as the short story collection Growing Dark, which Rue Morgue Magazine called "a must read." His short fiction has appeared in countless anthologies and magazines, and some of it has been translated into Russian. He works as a professional dog trainer and lives in North Carolina with his wife. Visit him at www.kristophertriana.com
CORI VIDAE is an erotica writer, anthologist, and collector of shiny things. You can find more of her stories on her website at http://www.corividae.com
OLIVE WHITTIER lives in Minnesota where she spends the winters dreaming and writing stories inspired by hot, dry places she's visited. Other things she finds thrilling include wet collections at museums, medieval bestiaries and natural mummies. "One Ear, Always to the Land of the Dead" is her first attempt at finding a home for some of her erotic horror.