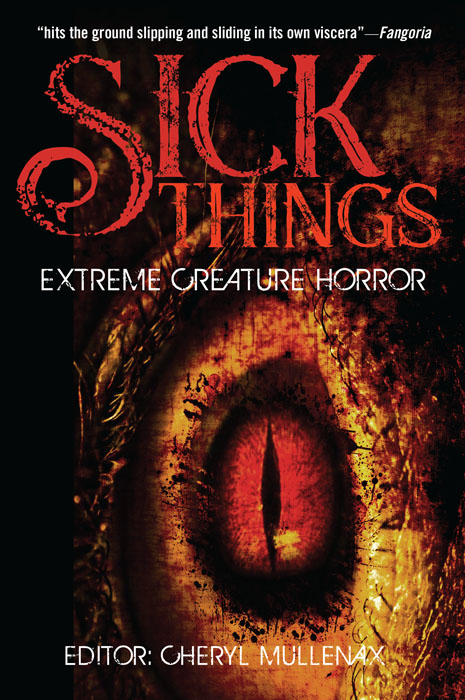 Release Date: June 2010
Format: Anthology, Print and Ebook
ISBN: 9780982097977
Available at Amazon.com
, Barnes and Noble, and many other online retailers.
Comet Press presents Sick Things: An Anthology of Extreme Creature Horror, a follow-up to the infamous Vile Things: Extreme Deviations of Horror. Sick Things is the ultimate collection of extreme creature horror with 17 deviant and gore-soaked stories featuring demons, cannibals, mutants, golems, werewolves, and many more vile creatures, monsters, and beasts.
Over-endowed aliens invade earth with one purpose: to mate with human females. A filmmaker documents a devil worshipping blood cult–and becomes the main subject. A farmer with an unnatural affection for his livestock gets a special gift when his wife is bitten by a werewolf. P!ssed off, flesh-eating cows take over a dairy farm. A musician returns from the dead to avenge his wife's murder, with the help of a mysterious black possum. The Allies find a secret weapon: a monstrous blob with an insatiable appetite for dead human flesh. A chef creates his ultimate dish: an anatomically correct golem made out of leftovers. A mythical demon preys on unsuspecting college girls. A morbid, mouth-watering retelling of Hansel and Gretel. And many more!
Reviews
FANGORIA MAGAZINE
July 31, 2010
by Fangoria.com
Cover every orifice. Comet Press' new collection SICK THINGS: AN ANTHOLOGY OF EXTREME CREATURE HORROR is making a beeline for the soft contents of your body—and it doesn't care one bit where it makes its grand entrance, orbital sockets or otherwise. Rest assured this violation will be painful, given the tight confinements of our fallible frames of flesh—but anything less than a full-on ass-rape would probably seem insufficient in the eyes of editrix Cheryl Mullenax.
What's the best criterion by which to appraise an anthology such as SICK THINGS? With the gut, this reviewer is guessing—and within the first six stories, mine was properly knotted. That the anthology hits the ground slipping and sliding in its own viscera with Randy Chandler's sexually explicit "Devils" is no accident. There is something of a mission statement implicit in Chandler's sopping assault:
Read on at your own stomach's peril.
Read the full review at Fangoria.
Fatally Yours
Review by Sarah "Fatally Yours" Jahier
If you are an extreme fan of horror looking for the ultimate in disgusting, vile and disturbing fiction, Sick Things: An Anthology of Extreme Creature Horror is a must-read…just make sure you have your barf bag handy!
Read the full review at Fatally Yours
TOXIC GRAVEYARD
July 18, 2010
by Toxic-Graveyard.com
Recently I've discovered the awesomeness that is Comet Press. There is a myriad of small press horror publishers out there, and more seem to be popping up all the time. Many times these small press companies promise "extreme" horror but often what you get is a poorly edited book riddled with grammatical and spelling errors with mediocre unknowns sandwiched between old stories from established authors. Thank goodness for Comet Press. I've reviewed their previous releases Vile Things and The Death Panel and loved em both. The bar was set high for Sick Things, and it soared over it on cloven hoof.
Read the full review at Toxic Graveyard.
Table of Contents
Devils by Randy Chandler
Threshold by Fred Venturini
This is My Body by Lawrence Conquest
Hunger Pangs by Matt Kurtz
Fly on the Wall by Stephanie Bedwell-Grime
Legacy of the Last Invader by M. Shaw
Acceptable Losses by Simon Wood
An Unfortunate Incident at the Slaughterhouse by Harper Hull
Rotsworth by Kurt Bachard
Evil, Bent, and Candy-Sweet by Tim Curran
Heat by Daniel I. Russell
The Neglected by Sean Logan
Betty and the Cambion by Ralph Greco, Jr.
Jimmy Sticks and the Outlaw Critter of Doom by Michael Boatman
Ranching the Sleore by Aaron Polson
Paper Angels on Fire by John Shirley
The Special Son by Jeffrey Hale
Editor: Cheryl Mullenax