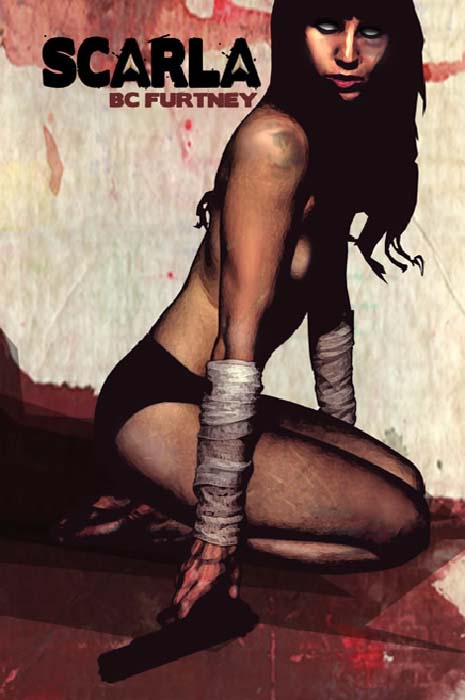 Release Date: August 1, 2011
Format: Print
Length: Novella
ISBN Number: 9781936964475
Available at Amazon.com and Barnes and Noble and many other online retailers.
Cover Illustration by Essi Zimm
In his take-no-prisoners debut novella, BC's Scarla is a lethal combination of hardboiled crime and hardcore horror. BC Furtney is the writer-director of the feature noir thriller Do Not Disturb, and award-winning short films including Mister Eryams and Disposer.
From the Back Cover:
Scarla Fragran shook the world. The youngest female kickboxing champion in history, she came from nowhere to become the brightest young star with the most promising future. Until it all died, along with the man she loved and the only life she'd ever known. Now, she hunts and kills, preying on the predators that cost her more than she ever thought she could lose. Working as an undercover prostitute for the police, she walks the night as bait. Her only lifeline is a man she hardly knows, but Facil LeTour is the only thing standing between Scarla and the jaws of death. Every night is a roll of the dice. She has nothing left to live for, but a million ways to die.
Reviews
Midwest Book Review—October 2011
"When your life no longer has value, you simply look for a worthy way to die. Scarla is a pulpy and riveting novel following Scarla Fragran, a former kickboxing champion who has lost everything with value to her. She works with the police as an undercover prostitute; her job is dangerous, yet she doesn't care. Fun, enticing, and pulling no punches, Scarla is a fine and very much recommended read, not to be missed."
Hellnotes—October 2011
"Horror fans, even for those of you who consider yourself to have a pretty strong stomach, there are some pretty graphic depictions of violence, and while they're not among the most disgusting that I've seen/read, they're still pretty darn nasty. The story is unique, the characterization well done, and every detail is so authentic that it lends more credence to the idea that this novel could easily be turned into an HBO series or a film (well, that an the author actually has a background in film). It's authentic, the story will grab you and won't let go, and even for reluctant readers or those who don't usually dip into horror, if they like action and they like violence, they will love this story of a troubled young woman that turns out to be far deeper and more intriguing than the standard "girl with super powers goes nuts and kills a bunch of people" although some readers may be tempted to dismiss the novel as just that. Case in point: don't listen to those readers."
Read the entire review at Hellnotes.
Toxic Graveyard—July 2, 2011
"This book is soaked in blood and sweat, hell even the cover feels grimy. The novel moves at a quick burst and is filled with gratuitous descriptions of disembowelment's, decapitations and such."
Read the entire review at Toxic Graveyard.
Monster Librarian
by Colleen Wanglund
"Scarla is dark, somber, and extreme. It is a horror story of therianthropy which makes for a nice change of pace from the standard were-tale. The virus is causing people to transform into something other than human, but instead of a werewolf the changes consist of an amalgam of different animals. Scarla herself is an interesting character. She is very sympathetic, especially once you, the reader, realize things are happening to her that she is completely unaware of. The end has a nice unpredictable twist with hints of an impending apocalypse. I thoroughly enjoyed Scarla and had a tough time putting it down. Recommended."
Read the entire review at Monster Librarian.
Amazon Reader Review Excerpts
"BC Furtney's dark and creepy debut novella Scarla is, if not disturbingly frightening, an enjoyable nighttime read … Complete with shockingly visual descriptions of sex, violence, and cannibalism, this book succeeds because of Furtney's talent for imaginative storytelling and strong characters."
"A Hard Boiled Detective style story—with just enough modern nuances are to bring splash of today-color into the noir of the piece—chock full of, bloody violence, drinking, swearing, hot sweaty sex, drugs, death and finding the balance between good and evil."