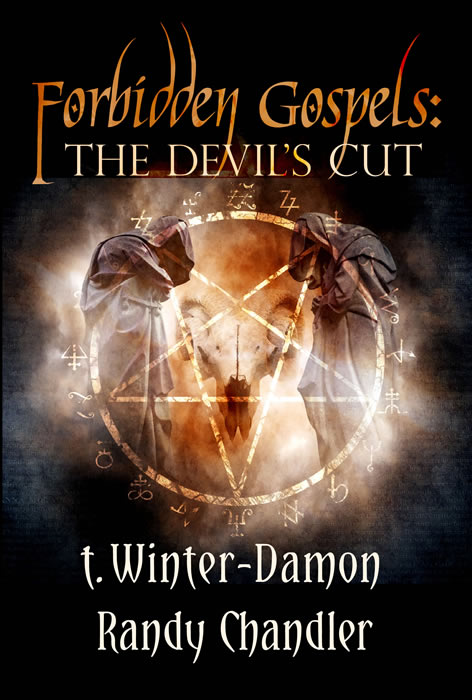 Release Date: March 15, 2016
Format: Print & Ebook
ISBN: 978-1-936964-60-4
Available in paperback and ebook at Amazon and many other online retailers
Cover and interior design by Inkubus
From the Introduction:
Duet for the Devil was published October 1, 2000, by Necro Publications.
Before that, bits and pieces of the unruly opus were published in various small-press magazines and indie journals, often in somewhat different forms.
By the time the novel made it between hard covers, its length had been considerably shortened. Some significant characters were lost altogether as their scenes got the ax.
Subsequently, much of the "lost" segments from Duet for the Devil were published by Jasmine Sailing as The Forbidden Gospels of Man-Cruel Volumes I & II. These modest little chapbooks also contained several scenes as they appeared before they were edited or reworked for the novel.
Forbidden Gospels: The Devil's Cut presents Volumes I & II as they originally appeared in chapbook form, including the introductions by Brian Hodge and Don Webb. Also included is an all new addition to the Gospels: "The Devil's Cut-Up."
Then comes the Prophet of the Perverse section–a tribute, of sorts, to the late t. Winter-Damon. It also includes Damon's long and rambling preface to Duet for the Devil, which until now has only appeared in the Advanced Uncorrected Proof and on the Necro Publications website.
Award-winning poet Bruce Boston's moving memorial poem "Forever Tracking" is included here, as are several poems Bruce and Damon wrote together, plus select poems from Damon's The Hour of Hallucinations.
Here too you will find remembrances of Damon by some of those whose lives were touched by him and by his works, plus miscellaneous bonus content.
Like the narrator of his poem "from prometheus a treasure stolen" Damon held stars and sand grains in his palm, "galaxies of swirling radiance" that "even gods must fear." And he liked nothing better than to show you those galaxies in his grains of sand–his gritty linguistic fireworks.
RC
Contributors and Acknowledgements:
Jasmine Sailing, editor-publisher of Cyber-Psychos AOD
Brian Hodge, contributing author
Don Webb, contributing author
Bruce Boston, poet and contributing author
Peter H. Gilmore, High Priest of the Church of Satan and contributing author
Peggy Nadramia, High Priestess of the Church of Satan and contributing author
David L. Tamarin, contributing author
David G. Barnett, editor-publisher of Necro Publications
Thomas Ligotti, author and living legend
Prophet of the Perverse himself: t. Winter-Damon