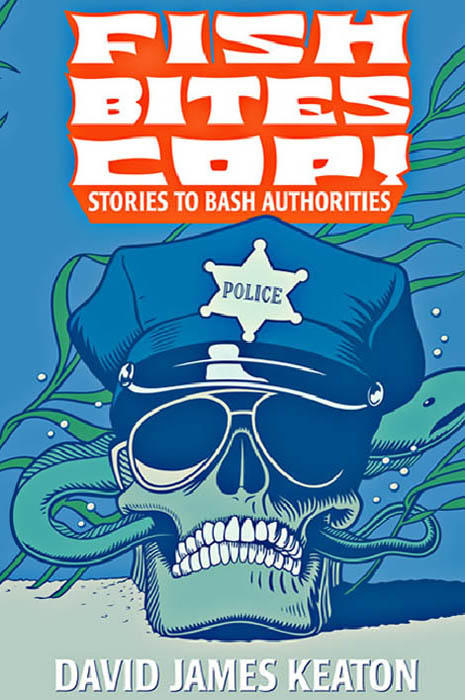 Release Date: May 1, 2013
Format: Print & Ebook
Length: 280 pages
ISBN: 978-1-936964-37-6
Available in paperback and ebook at Amazon, BarnesandNoble.com, and many other retailers.
Cover art by Mark Dancey
Noir at the Bar Podcast — David James Keaton reads his story "Burning Down Djs" from Fish Bites Cop!
Fish Bites Cop! Stories To Bash Authorities is a collection of horror, dark crime, pulp, and slipstream lampoonery that gleefully rips on police officers, security guards, organized religion, firefighters, police officers, bounty hunters, paramedics, police officers, military, middle management, and even more police officers. Bad cop movies are usually just bad cop movies. It's time they paid for it.
Inside you'll find dyslexic paramedics with dog complexes. Reality TV after the apocalypse. A young couple followed by a cop, follows him right back, the follows him some more. Three stories with umlauts in their titles. A cat program at a prison gone horribly wrong. The case against Tasers. The case for squirt guns. The case against bad hand acting. Hands missing thumbs. Hands slipping cuffs. Hands with birth defects that resemble the Loch Ness Monster but kick ass making shadow animals. A bad father and even worse boyfriend hits the reset button on his life until he really gets it wrong. A buddy-cop movie as a Shakespearean play. A guy named "Heck" who discovers Hell. Snipping plastic testicles off pick-up trucks. Cowboys so drunk they catch on fire. A horse that won't die. A ball pit full of spiders (preferable to children). A clam-digging competition between brothers that turns deadly. The disappearance of the bees finally revealed. And ten cops killed for a goldfish cracker. Or nine. A trunk full of surprises guaranteed.
"Bizarre and hysterically twisted, these stories crisscross between the satirical and the pulpy at a maddening pace. I endorse this crazy-ass book! Wild ride. David James Keaton is a writer to keep an eye on."
—Frank Bill, author of  Donnybrook and Crimes in Southern Indiana
"David James Keaton's read his Beckett, sure. And he knows his Pynchon. But he also knows his Herschell Gordon Lewis, his Quentin Tarantino. Some of the leaps the final story makes floored me, made me jealous. This is exquisite writing and fast-paced storytelling—the peanut butter and chocolate of fiction. Bet you can't read just one."
—Stephen Graham Jones, author of The Last Final Girl and Growing Up Dead in Texas
"If you're a cop, have ever known a cop, or been arrested by one, or even if you're just one of those people who are scared of cops, FISH BITES COP! is the collection you must read. Also if you like watching, catching, or eating fish. Or cops."
—Scott Phillips, author of The Adjustment and The Ice Harvest
"Don't expect any nice-making from David James Keaton. FISH BITES COP! is full of people acting badly, and it's as fun to watch them self-destruct as it is to watch a ten-car pileup on the interstate. Trust me: you'll enjoy your couple of hours rubbernecking."
—Kyle Minor, author of Praying Drunk and In the Devil's Territory
"David James Keaton by his own confession has a problem with authority. You might say he has a hard-on for cops, a hard-on of the nightstick variety he brandishes with abandon, gleefully bashing clichés with his own savvy brand of literary mayhem. In FISH BITES COP! Keaton goes Dirty Harry on the cop shop of conventional crime fiction. Heads roll, donuts get gored. It's so good it should be illegal."
—Randy Chandler, author of Dime Detective and Bad Juju
"Keaton's at his manic best in this collection, populated by prize winners and barn burners, each one coated in his special brand of pulp sauce. These are stories to read by the bonfire while the world burns. In the worlds Keaton conjures here, spinning with barely repressed anarchy, that's the general drift."
—Court Merrigan, author of Moondog Over the Mekong
"David James Keaton holds the lovechild of convention and expectations down to the hard, concrete floor, puts his hand over its mouth, and slits its throat. Each of the stories in this collection help sop up the blood, his hands wiped cleaned by the time the last story is wrought and reeking of his touch."
—Michael Czyzniejewski, author of Elephants in Our Bedroom and Chicago Stories
"Just like the dirty cops and ruthless thugs in these stories, David James Keaton's prose takes no prisoners. His wit and sarcasm cut straight through blood and bone and he gives no quarter to the naïve or timid reader (this book is not for Baptists!). With a command of contemporary slang force-bred with imagery, Keaton is one of the strongest voices in American fiction today. The first story alone, 'Trophies,' is one I will read forever."
—Jason Stuart, author of Raise a Holler
"I first met David James Keaton at the Noir At The Bar event Jed Ayres hosts in St. Louis, where he read one of the coolest stories I've ever had the pleasure of encountering, 'Three Abortions and a Miscarriage,' which appears here as well. Well, I'm here to report that every single one of the stories in this magnificent collection measures up to or even surpasses it. Reading these stories feels like the guys in the garage at the St. Valentine's Day Massacre probably felt as the bullets struck them. They will rip you up, tear you apart, and when you're done, you'll be exhausted with emotion but know that you've been in the presence of greatness. Which doesn't happen all that often. It does here. You've absolutely gotta read this."
—Les Edgerton, author of Just Like That and The Rapist
"Quite simply, David James Keaton is a twisted genius, and you read his work at your own risk, risk of a neural or moral melt-down. My best advice is to read Keaton on dark and stormy nights by lightning flash, or in the glare of a police cruiser's headlights while its radio crackles 'Officer Down.' Keaton's stories are like secret maps to murder swamps where the bodies are buried by the serial killers who comprise Keaton's fan clubs. David James Keaton is armed and dangerous, and is wanted with a price on his head in at least forty states, not to mention several foreign countries. Say you are a mad scientist and you want to make a monster writer of the future, well, first you dig up the corpse of Kafka, get some DNA, then you do the same with David Foster Wallace, then toss  some Stephen King and Woody Allen into the mixture. Add a pinch of  Poe and Robert Parker, shake the test tube with vigor and presto you have David James Keaton. I dedicated a poem to Keaton in the only book of poetry I've ever written. It's titled: 'Pussy-Simple Apeman,' which pretty much describes him as both a person and a writer. Keaton's stories are as sickly exuberant and gargantuan as gothic dirigibles, tall tales of teleportation into urban myth and mystery, post-truth, anti-reality, they break every rule of regular fiction and good taste. They are a state of mind and addictive, and maybe they will help David get the help he so clearly needs."
—Chuck Kinder, author of Last Mountain Dancer and The Honeymooners 
"It's Technicolor Noir."
—Charlie Trout, reporter for the Pittsburgh Pulp Exchange