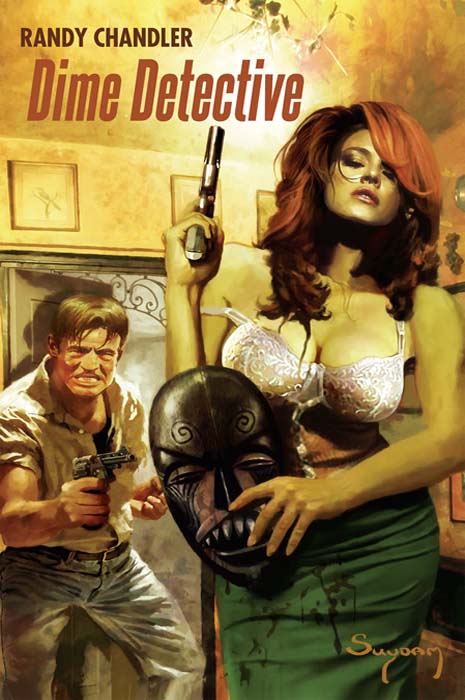 Release Date: April 30, 2012
Format: Print and ebook
Length: Novel
Available from Amazon and many other online retailers
Cover painting by Arthur Suydam
When barroom bouncer Joe Dall's ex-wife is murdered, he finds himself pressed into service as a novice private eye. Something very dark and deadly lurks in the lush shadows of the sleepy Florida town and if he can't unmask the killer soon, others close to Joe will die. Working on a powerful client's dime, Joe Dall's first case could be his last.
Hellbound Times—February 2012
by Walt Hicks
"To find a wonderful example of hardboiled detective noir today, you need not look any further than Randy Chandler's latest novel Dime Detective …
"Dime Detective is both an homage and a love letter to the genre, but in many ways, an interesting and original departure."
Read the full review at Hellbound Times.
Booklist—April 2012
by Elliot Swanson
"The new breed of retro authors isn't getting paid by the word and, therefore, isn't padding thin stories; instead, they're crafting their books with considerable care and quality, and this novel is every bit a winner. Chandler introduces PI Joe Dall in a slick, atmospheric work that captures the underbelly of the 1950s with a sharp eye for detail and a flair for the sinister. The Deep South, voodoo, bad cops, a depraved movie star, and a glamorous, gun-toting sidekick—all add their share of pulpy ambience in this first-rate debut."
Foreword Reviews —April 2012
by Joseph Thompson
"From Dot Barker, a kind of big sister, to Valentine Cooper and her shotgun, Chandler's characters go beyond the stereotypical dames, dolls, and broads that filled the pulps for a cast of strong, multidimensional, and entertaining characters. Readers can only hope to see them again in a sequel."
Read the full review at ForeWord.