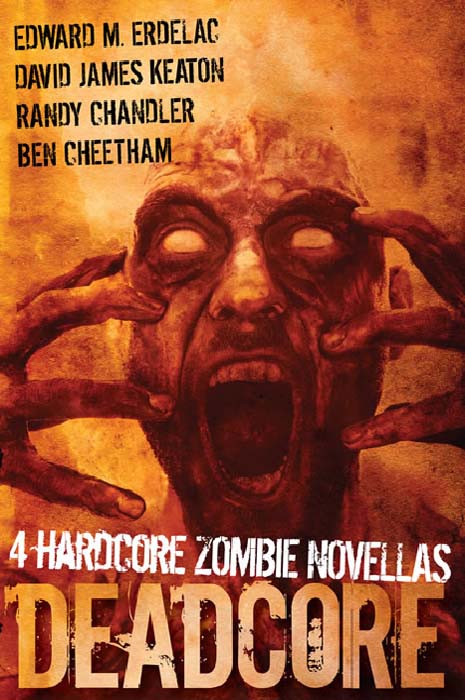 Release Date: September 30, 2010
Format: Print & Ebook
ISBN: 9780982097984
Available at Amazon.com
, Barnes and Noble, and many other retailers.
Deadcore: 4 Hardcore Zombie Novellas
It's Coming Down on September 30, 2010
What do the undead have in common? They're dead. But that is where the similarities end in Deadcore. Join authors Randy Chandler, Ben Cheetham, Edward M. Erdelac, and David James Keaton as they unleash the carnage while breathing new life, and death, into the genre with four unique and zombie-licious novellas.
Dead Juju by Randy Chandler
He's the mystery man on the news. Where he shows up, the shit goes down. The dead are rising, the immigration issue has reached the boiling point, the living are screwed, and unspeakable acts are being performed upon all involved. In this tale of Zombies Gone Wild, yes the dead walk but just where the hell are they going and why? Dead Juju gives you the hardcore truth, if you're ghoul enough to handle it.
Night of the Jikininki by Edward M. Erdelac
After a comet is observed in the western sky of feudal Japan, a murdered inmate rises from the dead and attacks his fellow prisoners. Three disparate men: a casteless bandit, a mad, child-eating monk, and a renowned but sadistic samurai band together to escape the walled and moat-surrounded prison as it fills with the walking and ravenous dead.
Zee Bee & Bee (a.k.a. Propeller Hats For The Dead) by David James Keaton
At a "Zombie Bed & Breakfast" tourist trap, guests pay for the thrill of a staged zombie assault during an apocalyptic scenario, acted out by sluggish hotel workers who are well-versed in the zombie genre. But soon the script doesn't go as planned, the guests become uncooperative, and the actors are taking their roles very seriously these days.
Zombie Safari by Ben Cheetham
Survivors of a zombie apocalypse have carved out new existences on islands, only visiting the mainland to hunt zombies. But things start to go wrong. Zombies don't die as they should. Hunters go missing. A trip that's supposed to be fun turns into a struggle for survival as four men makes a discovery that causes him to question not only what it means to be a zombie, but what it means to be human.
Reviews
fangoria
November 27, 2010
by Michael Compton
…DEADCORE features four ferocious zombie novellas that don't pull any punches.
…As the book's title indicates, DEADCORE achieves all extremes. Violent, perverse, depraved—and, as such, quite recommended.
Read the full review at Fangoria
PAGE HORRIFIC
November 20, 2010
by Walt Hicks
Randy Chandler's "Dead Juju" is a wild, graphic ride–a fast-paced array of elements including religion, politics, race relations, news media, socio-economic classism, contumacy–all handled with skillful precision as Chandler gives us deft glimpses of humanity in all its chaotic, whacked out splendor.
(Zee Bee & Bee) On its surface, the snarky narrative seems almost too clever, but read beyond the obvious genre affection and surprisingly heart-felt details of everyday life and you come away with a strange nostalgia and fear for a self-absorbed culture's obsession with their next slice of entertainment.
Read the full review at Page Horrific
Fatally Yours
March 22, 2011
by Sarah Jahier
Deadcore's four novellas are gruesome, funny, tense, bloody and entertaining as hell. Each of the stories is distinctive and unique, so you never feel you are reading stale material. If you love extreme zombie fiction, you'll definitely want to check out Deadcore!
Read the entire review by Sarah Jahier at Fatally Yours
Fantasy Book critic, December 2011
by Mihir Wanchoo
All the four stories have one thread in common with the title of combining hardcore elements with zombie stories, these stories are vividly written and are definitely not for everyone. Especially certain scenes in the first two novellas have a certain stomach turning quality to them without being overtly revolting. The remaining two stories do not fall far behind in gore and action sequences wherein one's imagination will be stretched by the generous descriptions. Lastly I believe these stories were chosen for their imaginative settings and clever twists to zombie stories. Therefore this collection is definitely a standout one because of this very reason however by that very reason it also becomes a book which is definitely not for everyone's tastes.
CONCLUSION: Deadcore is an enigmatic collection which Zombie enthusiasts have to read to see the verisimilitude showcased within. Taking zombies and mixing with a heady mix of violence, social commentary, human attitude and various other emotions, Deadcore manages to surprise and shock its readers thoroughly. It is a collection that will stay in the reader's mind for a long time to come.