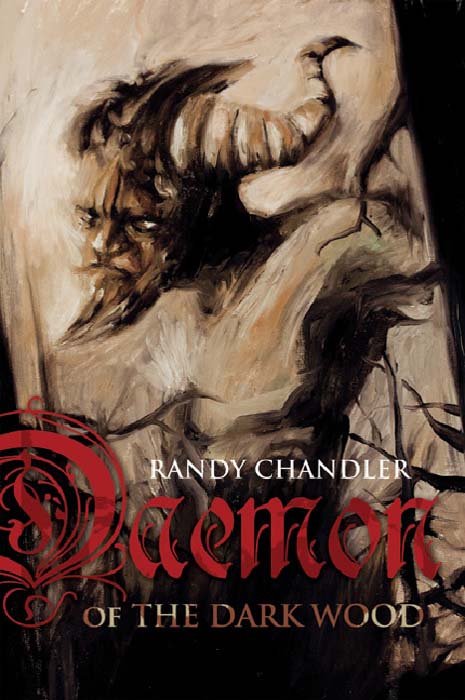 Release Date: February 29, 2012
Format: Print and Ebook
Length: Novel
ISBN: 9781936964468
Also available from Amazon, BarnesandNoble.com, and many other online retailers.
Cover art by Daniele Serra
What is turning the women of Widow's Ridge into sex-crazed, blood-thirsty maniacs? From the author of Hellz Bellz and Bad Juju, Randy Chandler brings on the terror in this hell-bent, suspenseful horror tale.
From the Back Cover
A man who digs cursed earth, uncovers great sorrow.
When the women of Widow's Ridge begin to go missing, a deputy sheriff, a psychiatrist and a community college professor become mired in chilling myth and mystery. When the missing women reappear, the horror of the Helling comes home to roost.
"Prepare to have your world rocked! Randy Chandler delivers the goods once again with Daemon of the Dark Wood. Horror fans need this!" — David T. Wilbanks – co-author of the Dead Earth books
Reviews
PUBLISHERS WEEKLY—February 2011
"Chandler's not a subtle writer, but readers looking for a throwback to splatterpunk sex and violence with minimal plot will find this just the ticket."
Read the full review at Publisher's Weekly.
Horror World—July 2012
by TT Zuma
"The Daemon of the Dark Wood may be sexually fueled, but make no mistake, its horror roots are firmly grounded.  From the first pages of the novel Chandler does an excellent job of creating fear in the reader. The tension is unrelenting throughout; the violence is visceral and often extreme.  On top of this, Chandler manages to pull off sex scenes that are both arousing and horrific at the same time. Whether you are straight, gay, or a fetish devotee, readers will find plenty in The Daemon of the Dark Wood to be enthralled, appalled, or horrified by."
Read the full review at Horror World.
Hellnotes—March 2012
by Sheila M. Merritt
"Sex and violence are played up to the hilt in the book; aberrations are pervasive. The subject matter certainly can't be classified as "delicate." Randy Chandler writes with apt audaciousness. He seems truly fond of the salacious wenches he has created. Daemon of the Dark Wood deals with loss of control, but the novel's author is in masterly command."
Read the full review at Hellnotes.
Hellbound Times—January 2012
by Walt Hicks
"If the devil is truly in the details then Chandler is a Practiced Master of the Dark Literary Arts."
Read the full review at Hellbound Times.
Horror Drive-In—December 2011
by Mark Sieber
"The two novels that I mentioned above by Randy Chandler are hotly sought after collector's items. For good reason. His work is well above the average stuff coming out from the small press. Trust me on this: You don't want to miss out on Daemon of the Dark Wood. Buy one soon or be very sorry."
Read the full review at Horror Drive-In.
Foreword Reviews Magazine—Spring 2012
by J.G. Stinson
"The legend of Widow's Ridge should be entirely believable to anyone familiar with American folklore and folk music, as those stories and songs are replete with betrayal, death, murder, grief—most all of the negative aspects of human life, in fact.
"Daemon of the Dark Wood will please any reader who relishes a well-written tale of ancient knowledge and hidden dangers, and those who fight to keep the human realm free of unbridled evil."
Horrortalk—March 27, 2012
by Gabino Iglesias
"Chandler wastes no time when it comes to creating tension and his narrative immediately conjures up a world of screams and fear."
Read the full review at HorrorTalk.
Toxic Graveyard—April 3, 2012
"If you've enjoyed anything else Comet Press has released, or Leisure for that matter, you'll dig Daemon of the Dark Wood. It's fun, fast, and trashy, but with solid writing chops and great descriptions. Randy Chandler is no hack. Hopefully we'll get a sequel, I'd love to revisit the dark woods and see what else crawls out."
Read the full review at Toxic Graveyard.